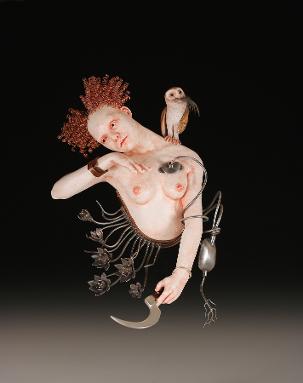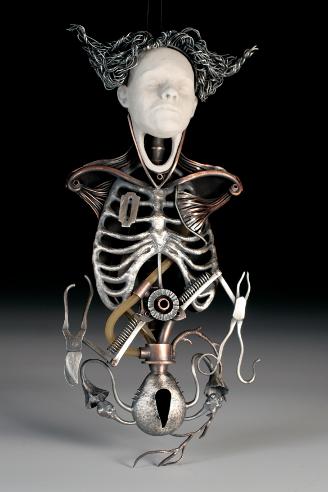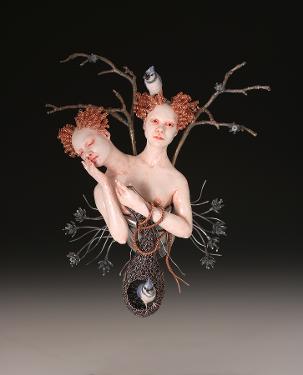 Artist Statement
Over the last few years my work has been expansive in the study and execution of various artistic disciplines. I use a pool of imagery derived from the figure and forms associated as culturally feminine to communicate concepts through narrative association. I am currently exploring ways of combining precious metals with porcelain in art that has led to the development of a technique I call micro-sculpting. Micro-sculpting is the process of utilizing materials and flexible molds to recreate forms of small scale. This technique supports quick reproduction and control of materials and creates a method to manipulate cast forms.
My designs are inspired by nature and explore themes such as growth, disease, preservation, and fertility. I use non-ferrous metals to fabricate delicate and mechanical elements and clay to render sections of the body. My figures represent aspects of memory, or what I like to think of as visual remnants.
Content and imagery are integrated within my work to purposefully create a narrative experience. Narrative is defined by the telling of a story, a story whose imagery and content is acquired through symbolic language. The objects we use, established cues, and cultural associations link the visual elements in work to create scenarios that lead to greater meaning in art.
My clay forms portray females combined with natural imagery to illustrate aspects of fertility and roles of gender. I explore surface treatments on clay as a means to enhance the visual quality of work. I am currently examining the layering of underglaze and mixed media on ceramics to simulate the look of flesh and other subject matter. This lends an enamel-like quality to the work that creates a painterly exchange between the surface and the form. The combination of traditional techniques with an exploratory approach allows the work to harness strengths from multiple disciplines for greater visual depth.